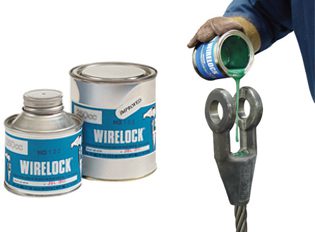 100% termination efficiency.
Temperature operating range is -65° F to +240° F.
Ideal for on site applications.
No hazardous molten metal.
Improved fatigue life.
Pouring temperature without booster pack is 48° F to 110° F.
One booster pack if pouring temperature is 35° F to 48° F.
Two booster packs if pouring temperature is 27° F to 35° F.
Refer to WIRELOCK® Technical Manual for more information.
Approvals
Lloyds Register of Shipping
Det Norske Veritas (DNV)
United States Coast Guard
Registro Italiano Navale
Germanischer Lloyd
United States Navy
American Bureau of Shipping
ISO 17.558
DNV-OS-E304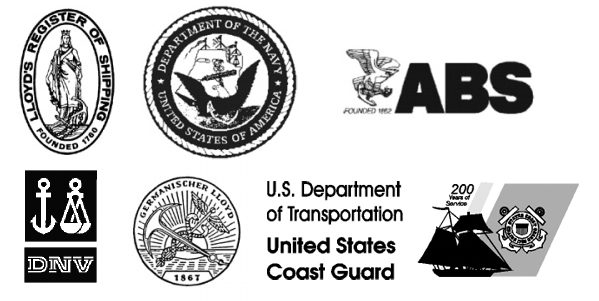 NATO Numbers
100cc 8030-21-902-1823
250cc 8030-21-902-1824
500cc 8030-21-902-1825
1000cc 8030-21-902-1826
Witnessed and tested by American Bureau of Shipping. (ABS)
W416-7 Kits
Booster
Pak
Stock No.
Kit
Size
Kit
Per Case
Stock No.
Weight Each
(lbs.)
100
20
1039602
.62
1039603
250
12
1039604
1.25
1039605
500
12
1039606
2.54
1039607
1000
12
1039608
4.59
1039609
2000
12
1039610
9.00
1039611
Wire Rope
Size
WIRELOCK®
Required
(cc)
Wire Rope Size
WIRELOCK®
(cc)
(in.)
(mm)
(in.)
(mm)
1/4
6-7
9
1-3/4
44
700
5/16
8
17
1-7/8
48
700
3/8
9-10
17
2
51
1265
7/16
11
35
2-1/8
54
1265
1/2
13
35
2-1/4
56
1410
9/16
14
52
2-3/8
60
1410
5/8
16
52
2-1/2
64
1830
3/4
20
86
2-5/8
67
1830
7/8
22
125
2-3/4
70
2250
1
26
160
3
76
3160
1-1/8
28
210
3-1/4
82
3795
1-1/4
32
350
3-1/2
88
4920
1-3/8
36
350
3-3/4
94
5980
1-1/2
40
420
4
102
7730
1-5/8
42
495
—
—
—