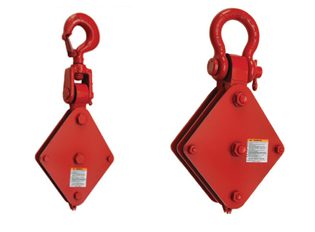 Diamond & Oval Pattern Regular Wire Rope Blocks
Laser cut painted side plates (can be furnished galvanized upon request).
Grade 5 bolts secured with lock washers and staked nuts.
All sizes feature bronze bushed steel sheaves with larger bearing diameter for extended block life.
New style hanger for fitting attachment
Available with hanger only (no fitting).
Meets or exceeds all requirements of ASME B30.26 including identification, ductility, design factor, proof load and temperature requirements. Importantly, these blocks meet other critical performance requirements including fatigue life, impact properties and material traceability, not addressed by ASME B30.26.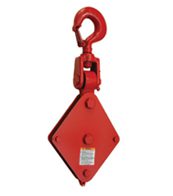 T-641- B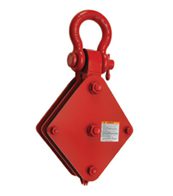 S-642-B
Block
Size
(in.)
Fitting
Diamond Pattern
with
Bronze Bushed
Steel Sheaves
Oval Pattern
with
Bronze Bushed
Steel Sheaves
641-B
Single
642-B
Double
661-B
Single
662-B
Double
4
T
781586
782193
791183
791593
6
T
781611
782219
791218
791619
8
T
781639
782237
791236
791637
10
T
781657
782255
791254
791655
4
S
785886
786199
795884
796197
6
S
785902
786206
795900
796204
8
S
785920
786224
795928
796222
10
S
785948
786242
795946
796240
6
J
782102
782503
791502
791904
8
J
782120
782521
791520
791922
10
J
782148
782549
791548
791940
6
E
782004
782406
791307
791708
8
E
782022
782424
791325
791726
10
E
782040
782442
791343
791744
*Fitting Type : T – Hook with Latch; S – Round Pin Shackle; J – Oblong Eye; E – Swivel Shackle Eye
Block
Size
(in.)
Sheave Size
(in.)
Wire Rope
Size
(in.)
Working
Load Limit
(Tons)*
Weight Each
(lbs.)
Outside
Diam.
Rim
Thickness
641
661
Single
642
662
Double
641
661
Single
642
662
Double
4
4
3/4
3/8
1
2
8
11
6
6
1
3/8
3
4
15
21
8
8
1-1/4
5/8
4
6
28
41
10
10
1-1/4
5/8
4
7
38
60
*Ultimate Load is 4 times the Working Load Limit