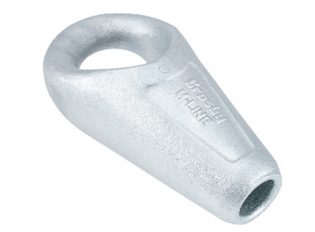 Wide range of sizes available:
1-1/4" thru 4" Wire Line
"M-Line" socket terminations have a 100% efficiency rating, based on the catalog strength of the wire rope. Ratings are based on recommended use with 6 x 7, 6 x 19, or 6 x 36, IPS or XIP (EIP), XXIP (EEIP), RRL, FC, or IWRC wire rope. Strand constructed with minimal number of wires (e.g. 1 x 7) requires special consideration that socket basket be five (5) times the strand diameter or fifty (50) times the wire diameter, whichever is the greater.
Galvanized finish.
Designed for today's higher strength classes of wire rope.
Design of bail allows for easy connection to shackles and other connecting links.
Socket design utilizes features to keep cone from rotating.
G-517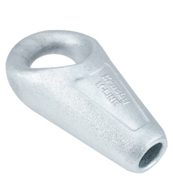 NOTICE: All Cast Mooring Sockets are Individually Magnetic Particle Inspected and Ultrasonic Inspected.
Wire Rope
Size
Ultimate
Load
(t)
G-517
Stock No.
Weight
Each
(lbs.)
Dimensions
(in.)
(in.)
(mm)
A
B
C
D
E
F
G
H
1-1/4 – 1-3/8
32-35
113
1004943
17
1.63
3.09
3.63
4.45
1.44
5.13
10.89
1.53
1-1/2 – 1-5/8
38-41
136
1004961
30
1.95
3.69
4.32
5.43
1.60
6.31
13.00
1.81
1-3/4 – 1-7/8
44-48
181
1004989
43
2.23
4.16
4.53
6.30
1.84
7.22
14.11
2.09
2 – 2-1/8
50-54
227
1005002
57
2.50
4.75
5.26
7.02
2.09
8.25
16.02
2.24
2-1/4 – 2-3/8
57-60
277
1005020
76
2.78
5.25
5.78
7.72
2.31
9.16
17.90
2.62
2-1/2 – 2-5/8
64-67
363
1005048
106
3.05
5.88
6.71
8.53
2.69
10.13
19.89
2.66
2-3/4 – 2-7/8
70-73
454
1005066
138
3.33
6.50
7.13
9.35
3.00
11.09
21.63
2.98
3 – 3-1/8
76-79
544
1005084
193
3.50
7.25
7.74
10.30
3.25
12.31
23.50
3.24
3-1/4 – 3-3/8
82-86
635
1005105
229
3.81
7.62
8.80
10.94
3.50
13.13
25.75
3.43
3-1/2 – 3-5/8
88-92
735
1005123
279
4.15
8.00
9.06
11.72
3.69
13.96
27.70
4.12
3-3/4 – 4
95-102
907
1005141
384
4.39
8.75
10.50
12.91
3.69
15.88
30.13
4.46