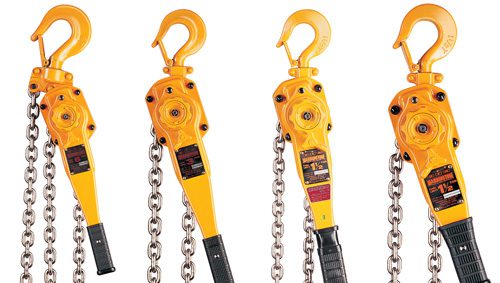 Ton 3/4, 1, 1-1/2, 2, 3, 6, and 9 capacity
LB lever hoists combine easy operation with a compact, reliable design that easily handles the real-world demands of contractor and industrial applications. Examples include day-to-day maintenance, machine repair, construction, service, and manufacturing operations. You'll find every job goes easier thanks to smooth, reliable lifting and pulling actions. Compact size and easy operation make the LB lever puller the "cumalong to take along" wherever you have a load to move.
Many Benefits From More Features
Take and use this hoist anywhere – including tight quarters–thanks to a compact design with low headroom.
Shed weight, not strength, with rugged, all-steel construction that actually weighs less than comparable aluminum models.
Get positive braking action with Weston-style load brake incorporating two moisture-resistantbrake pads with four braking surfaces. Includes two brake pawls for additional
reliability.
Enjoy protection against dirt and moisture with a totally enclosed brake mechanism.
Realize long life with machined, heat-treated, split load double reduction gears.
Operate in close quarters with short, 15-degree recovery strokes, short steel handle and positive rubber grip.
Patented spring-loaded freewheel mechanism allows easy adjustment of the load chain while safeguarding against inadvertent freewheeling under load.
Capabilities To Count On
5-foot lift is standard, 10-, 15- and 20-foot lifts also stocked; nonstandard lifts available as well.
Grade 100 heat-treated manganese alloy load chain resists abrasion and wear while minimizing chain weight.
Forged and heat-treated alloy steel hooks open slowly without fracturing under excessive loads.
Test certificate verifies that every hoist has been factory load tested to 125% of rated capacity, in accordance with ASME B30.21requirement.
LB Optional Accessories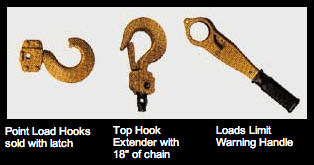 | Cap. (Tons) | Product Code | Headroom C (in.) | Sth. (ft) | Pull to Lift Load (lbs) | A (in.) | B (in.) | D (in.) | E (in.) | F (in.) | G (in.) | Load Chain Dia. (mm) x Chain Fall Lines | Net Weight (lbs) | Shipping Weight Approx. (lbs) | Weight for Add'l One Foot of Lift (lbs) |
| --- | --- | --- | --- | --- | --- | --- | --- | --- | --- | --- | --- | --- | --- | --- |
| 3/4 | LB008 | 11.0 | 5 | 58 | 6.0 | 4.8 | 10.4 | 4.0 | 1.4 | 0.9 | 5.6×1 | 14 | 14 | 0.4 |
| 1 | LB010 | 11.0 | 5 | 77 | 6.0 | 4.8 | 10.4 | 4.0 | 1.4 | 0.9 | 5.6×1 | 14 | 14 | 0.4 |
| 1-1/2 | LB015 | 13.8 | 5 | 58 | 6.7 | 5.6 | 16.3 | 4.3 | 1.8 | 1.3 | 7.1×1 | 21 | 22 | 0.8 |
| 2 | LB020 | 13.8 | 5 | 77 | 6.7 | 5.6 | 16.3 | 4.3 | 1.8 | 1.3 | 7.1×1 | 21 | 22 | 0.8 |
| 3 | LB030 | 16.5 | 5 | 70 | 7.7 | 7.0 | 16.3 | 4.5 | 2.0 | 1.6 | 9.0×1 | 34 | 36 | 1.2 |
| 6 | LB060 | 22.4 | 5 | 72 | 7.7 | 8.7 | 16.3 | 4.5 | 2.4 | 2.0 | 9.0×2 | 60 | 62 | 2.4 |
| 9 | LB090 | 27.8 | 5 | 74 | 7.7 | 11.1 | 16.3 | 4.5 | 3.9 | 2.9 | 9.0×3 | 93 | 97 | 3.6 |