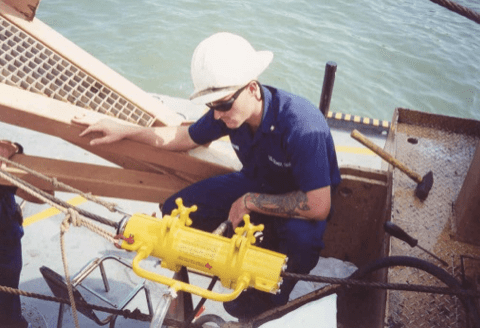 Dynagard Environmental Wire Rope Lubricants
We provide your company with the highest level of innovation, safety, and support for the care, and maintenance of your Wire Ropes. This generates longevity for your Wire Rope that no manual method used can achieve.
Since 1982, when we first introduced our products to the world market, we have consistently created the most advanced, safe, and well-supported method for Wire Rope Preventative Maintenance. Over the years since, our continued leadership has proven to make our Customers' job much easier and cost effective on the broadest possible scale. In honor of this three-decade tradition, we will continue to announce further innovations, with several Patent Pending design features on the horizon. We never stop looking for improved design opportunities based on our own as well as our Customers' first hand field experience.
Kirkpatrick Wire Rope Lubrication System's integrated design provides the most efficient way to field dress any configuration of Wire Rope in any Preventative Maintenance Schedule. Our Lubrication Systems accomplish this by scraping a Wire Rope's Groove Pattern and outer circumference clean of debris while simultaneously applying a new coat of Wire Rope Lubricant under pressure to the surface and into the internal strands. This process is all accomplished in one pass, generating tremendous savings in time, labor costs, and Wire Rope Lubricant usage. Scraper Plates and Groove Cleaners used with the Kirkpatrick System are calibrated to fit the specific Diameter and match the number of outer strands and lay pattern of the Wire Rope for which they are used. An accurate fit to the Groove Pattern efficiently removes product build-up and debris within each distinct Groove Pattern. Our revolutionary proprietary laser created tooling makes the finished Groove Cleaners as close to a perfect fit as is possible.
Consequently, Dynagard™ Environmental Wire Rope Lubricants are uniformly applied to the newly cleaned surface, penetrating into any open spaces within the Grooves and inner strands that allow them to do so. The goal in this process is to maintain the structural integrity of the original factory applied lay-up material for as long as possible. Therefore, using a lubricant coating product such as Dynagard™ that marries well to the initial lay-up material substantially increases the working life of the layup material as well as the Wire Rope. Superior Wire Rope Maintenance happens because of the aforementioned and as the Wire Rope passes through a 100% pressurized immersion within the Lubrication Collar's Seal Center Chamber. Surface and internal moisture (trapped within the strands) is displaced as the pressurized Wire Rope Lubricant coating is being applied. Our Wire Rope Lubrication Systems are functional with both low and high viscosity coatings.