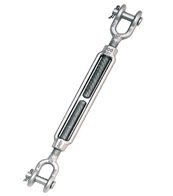 End fittings are Quenched and Tempered or Normalized, bodies heat treated by normalizing.
Hot Dip galvanized steel.
TURNBUCKLES RECOMMENDED FOR STRAIGHT OR IN-LINE PULL ONLY.
Forged jaw ends are fitted with bolts and nuts for 1/4" through 5/8", and pins and cotters on 3/4" through 2-3/4" sizes.
Modified UNJ thread on end fittings for improved fatigue properties.
Body has UNC threads.
Meets or exceeds all requirements of ASME B30.26 including identification, ductility, design factor, proof load and temperature requirements. Importantly, these turnbuckles meet other critical performance requirements including fatigue life, impact properties and material traceability, not addressed by ASME B30.26.
Lock Nuts available for all sizes.
Comprehensive end fitting.
Fatigue Rated.
HG-228

Meets the performance requirements of Federal Specifications FF-T- 791b,Type 1, Form 1 – CLASS 7, and ASTM F-1145, except for those provisions required of the contractor.
Thread
Dia. &
Take Up
(in.)
HG-228
Stock No.*
Working
Load
Limit
(lbs)*
Weight
Each
(lbs.)
Dimensions
(in.)
A
B
E
Closed
G
J
Open
K
Closed
M
Open
N
Closed
BB
† 1/4 x 4
1032493
500
.37
.25
.45
1.66
.64
11.19
7.19
12.18
8.18
4.07
† 5/16 x 4-1/2
1032518
800
.56
.31
.50
2.02
.87
13.07
8.57
14.12
9.62
4.58
† 3/8 x 6
1032536
1200
.85
.38
.53
2.11
.85
16.25
10.25
17.50
11.50
6.10
1/2 x 6
1032554
2200
1.82
.50
.64
3.22
1.07
18.65
12.65
20.14
14.14
6.03
1/2 x 9
1032572
2200
2.29
.50
.64
3.20
1.07
24.94
15.94
26.43
17.43
9.36
1/2 x 12
1032590
2200
2.71
.50
.64
3.20
1.07
30.94
18.94
32.43
20.43
12.36
5/8 x 6
1032616
3500
3.21
.63
.79
3.90
1.32
19.74
13.74
21.82
15.82
6.03
5/8 x 9
1032634
3500
3.95
.63
.79
3.89
1.32
26.08
17.08
28.16
19.16
9.39
5/8 x 12
1032652
3500
4.58
.63
.79
3.89
1.32
32.08
20.08
34.16
22.16
12.39
3/4 x 6
1032670
5200
4.80
.75
.97
4.71
1.52
21.09
15.09
23.68
17.68
6.13
3/4 x 9
1032698
5200
5.85
.75
.97
4.68
1.52
27.49
18.49
30.08
21.08
9.59
3/4 x 12
1032714
5200
6.72
.75
.97
4.68
1.52
33.49
21.49
36.08
24.08
12.59
3/4 x 18
1032732
5200
8.45
.75
.97
4.71
1.52
45.49
27.49
48.08
30.08
18.53
7/8 x 12
1032750
7200
9.37
.88
1.16
5.50
1.77
34.65
22.65
37.62
25.62
12.16
7/8 x 18
1032778
7200
11.8
88
1.16
5.50
1.77
47.12
29.12
50.09
32.09
18.63
1 x 6
1032796
10000
10.4
1.00
1.34
6.09
2.05
23.82
17.82
27.18
21.18
6.18
1 x 12
1032812
10000
13.8
1.00
1.34
6.09
2.05
35.82
23.82
39.18
27.18
12.18
1 x 18
1032830
10000
17.1
1.00
1.34
6.09
2.05
47.82
29.82
51.18
33.18
18.18
1 x 24
1032858
10000
21.0
1.25
1.34
6.06
2.05
60.42
36.42
63.78
39.78
24.84
1-1/4 x 12
1032876
15200
21.9
1.25
1.84
8.09
2.82
39.37
27.37
43.58
31.58
12.06
1-1/4 x 18
1032894
15200
25.9
1.25
1.84
8.09
2.82
51.37
33.37
55.58
37.58
18.06
1-1/4 x 24
1032910
15200
29.8
1.25
1.84
8.09
2.82
63.93
39.93
68.14
44.14
24.62
1-1/2 x 12
1032938
21400
32.6
1.50
2.06
8.93
2.81
40.76
28.76
45.68
33.68
12.32
1-1/2 x 18
1032956
21400
38.0
1.50
2.06
8.93
2.81
52.76
34.76
57.68
39.68
18.32
1-1/2 x 24
1032974
21400
43.5
1.50
2.06
8.93
2.81
65.38
41.38
70.30
46.30
24.94
1-3/4 x 18
1033018
28000
53.5
1.75
2.60
9.36
3.35
53.35
35.35
59.16
41.16
18.37
1-3/4 x 24
1033036
28000
61.1
1.75
2.60
9.36
3.35
65.35
41.35
71.16
47.16
24.37
2 x 24
1033054
37000
96.3
2.00
2.62
11.80
3.74
69.64
45.64
76.72
52.72
24.48
2-1/2 x 24
1033072
60000
167
2.50
3.06
13.26
4.44
72.97
48.97
82.18
58.18
24.60
2-3/4 x 24
1033090
75000
199
2.75
3.69
14.92
4.19
74.75
50.75
85.50
61.50
24.65
*Proof Load is 2.5 times the Working Load Limit. Ultimate Load is 5 times the Working Load Limit. † Mechanical Galvanized