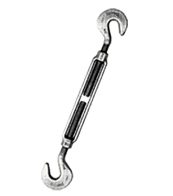 Meets the performance requirements of Federal Specifications FF-T79lb, Type 1, Form 1– Class 8, and ASTM F-1145, except for those provisions required of the contractor.
Hot Dip galvanized.
End fittings are Quenched and Tempered, bodies heat treated by normalizing.
Hooks are forged with a greater cross sectional area that results in a stronger hook with better fatigue properties.
Modified UNJ thread on end fittings for improved fatigue properties. Body has UNC threads.
Turnbuckle eyes are forged elongated, by design, to maximize easy attachment in system and minimize stress in the eye. For turnbuckle sizes 1/4" through2 1/2", a shackle one size smaller can be reeved through eye.
Forged jaw ends are fitted with bolts and nuts on sizes 1/4" through 5/8", and pins and cotters on sizes 3/4" through 2 3/4".
TURNBUCKLES RECOMMENDED FOR STRAIGHT OR IN-LINE PULL ONLY.
HG-223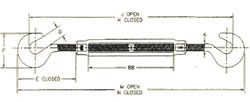 Thread Diameter & Take Up (in.)
Working Load Limit (lbs.)
Weight Each (lbs.)
Dimensions
(in.)
A
D
E Closed
F
J Open
K Closed
M Open
N Closed
BB
1/4 x 4
400
. 30
.25
45
1.59
1.27
11.12
. 7.12
. 11.94
7.94
4.00
5/16 x 4 1/2
700
. 47
.31
50
1.94
1.50
12.81
. 8.31
. 13.81
9.31
4.50
3/8 x 6
1000
. 78
.38
56
2.30
1.77
16.50
10.50
17.72
11.72
6.00
1/2 x 6
1500
1.60
.50
66
2.94
2.28
18.82
11.82
20.38
13.38
6.00
1/2 x 9
1500
1.83
.50
66
2.94
2.28
24.82
14.82
.26.38
16.38
9.00
1/2 x 12
1500
2.28
.50
66
2.94
2.28
30.82
17.82
. 32.38
19.38
12.00
5/8 x 6
2250
2.75
.63
90
3.69
2.81
20.50
13.25
. 22.50
15.25
6.00
5/8 x 9
2250
3.38
.63
90
3.69
2.81
26.50
16.25
. 28.50
18.25
9.00
5/8 x 12
2250
3.50
.63
90
3.69
2.81
32.50
19.25
. 34.50
21.25
12.00
3/4 x 6
3000
3.89
.75
98
4.52
3.33
22.38
14.88
24.78
17.28
6.00
3/4 x 9
3000
5.28
.75
98
4.52
3.33
28.38
17.88
30.78
20.28
9.00
3/4 x12
3000
5.43
.75
98
4.52
3.33
34.38
20.88
36.78
23.28
12.00
3/4 x 18
3000
8.12
.75
98
4.52
3.33
46.38
26.88
48.78
29.28
18.00
7/8 x 12
4000
8.10
.88
1.13
5.19
3.78
36.00
22.25
38.75
25.00
12.00
7/8 x 18
4000
9.95
.88
1.13
5.19
3.78
48.00
28.25
50.75
31.00
18.00
1 x 6
5000
9.33
1.00
1.25
5.84
4.25
25.63
17.63
28.69
20.69
6.00
1 x 12
5000
11.93
1.00
1.25
5.84
4.25
37.63
23.62
40.69
26.69
12.00
1 x 18
5000
14.00
1.00
1.25
5.84
4.25
49.63
29.63
52.69
32.69
18.00
1 x 24
5000
17.25
1.00
1.25
5.84
4.25
61.63
35.63
64.69
38.69
24.00
1 1/4 x 12
6500
20.58
1.25
1.50
7.22
5.13
40.44
25.94
44.06
29.56
12.00
1 1/4 x 18
6500
23.00
1.25
1.50
7.22
5.13
52.44
31.94
56.06
35.56
18.00
1 1/4 x 24
6500
27.00
1.25
1.50
7.22
5.13
64.44
37.94
68.06
41.56
24.00
1 1/2 x 12
7500
27.50
1.50
1.88
8.34
5.75
43.94
28.94
47.44
32.44
12.00
1 1/2 x 18
7500
31.00
1.50
1.88
8.34
5.75
55.96
34.94
59.44
38.44
18.00
1 1/2 x 24
7500
37.50
1.50
1.88
8.34
5.75
67.94
40.94
71.44
44.44
24.00