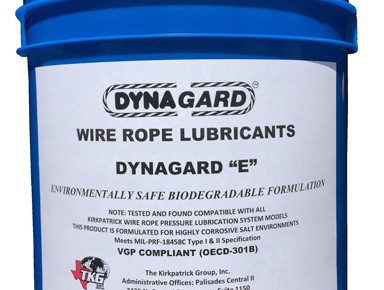 Environmentally Safe Wire Rope Lubricant, Dynagard "E" is a revolutionary non-toxic 97% biodegradable wire rope lubricant that meets the performance levels of petroleum-based greases in areas of fluid film and corrosion protection of wire rope strands. Exceptional for manual application; Dynagard "E" also meets the operational requirements for all Kirkpatrick Wire Rope Lubrication System Models providing optimum coating and penetration prolonging the working life of wire rope while at the same time meeting environmental concerns of our customers. Dynagard "E" was the first seed oil based high viscosity grease introduced onto the world market in 1993. It also was the benchmark product used in 2002 to establish MIL-PRF-18458C Type II requirements under the "Environmentally Preferable Lubricants" program (NSWCCD, Code 632). Documentation is available upon request.
National Stock Number: 9150-01-520-8116
MIL-PRF-18458C (Type II): Pass
Meets or surpasses requirements
LC50 Bio-Aquatic Rating, EPA/600/4-90/027: 21,085 ppm
Test duration: 48 Hour
Test specimen used: Mysidopsis Bahia
Biodegradability rating (CEC L-33-A-93): 97%
Viscosity: NLGI Grade 2
Color: Semi-Clear Brown
Texture: Smooth/Creamy
Flash Point, ASTM D92 (C/F): 316C/601F
Dropping Point, ASTM D566: Over 400 degrees F
Oil Separation % (Fed 791-321.1): 1.37
Worked Penetration: mm, (ASTM D217): 301
Salt Spray, Fed. Std. 791, TM 4001: Pass
Accelerated Weathering (Fed 791-4001, ASTM G152, 153): Pass
Rust Test, ASTM D-1743: Pass
Salt Fog Corrosion Resistance ASTM B117: 1,000 hr./Pass
Salt Spray, Fed. Standard 791, TM 4001 (10 Days): Pass
Accelerated Weathering (G23, 10 Days): 2 Dots/Pass
Load Temperature Flexibility (Sec. 4.4.4 no cracks @ 6 Degrees C): Pass (No Cracking)
Load Wear Index (ASTM D2596): 35.58
Adhesive% (Sec. 4.6.6. 150 rpm @ 151 +/-2 deg. F): 99.7%
Volatile Matter (2.0% Max): 1.02% Max.