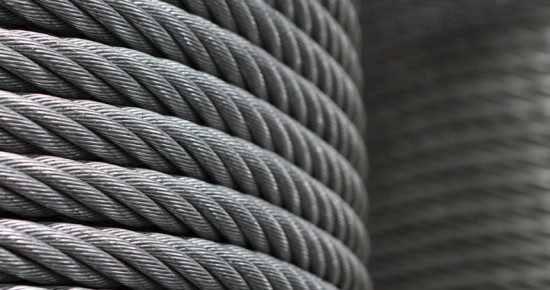 Superior strength
High-breaking-force rotation-resistant rope incorporating Dyform strands — confirmed by Bridon's Powercheck process for testing a sample from each production length.
Resistance to rotation
Good resistance to rotation — confirmed by Bridon's unique Twistcheck testing program.
Resistance to bend fatigue
Longer bend-fatigue life when compared with conventional multi-strand ropes — confirmed by laboratory testing and extensive field experience.
Resistance to crushing
Excellent resistance to crushing and abrasion due to the rope's compact design and the Dyform strands — recommended when multi-layer spooling is involved.
Reduced elongation
Increased steel content and the Dyform process minimize elongation.
Reduced sheave wear
Smooth outer Dyform surface decreases the amount of sheave wear.
Long service life
Exceptional performance means less down time and more work time.
Optional plastic coating of IWRC
IWRC coating extends fatigue life, improves structural stability, and resists corrosion.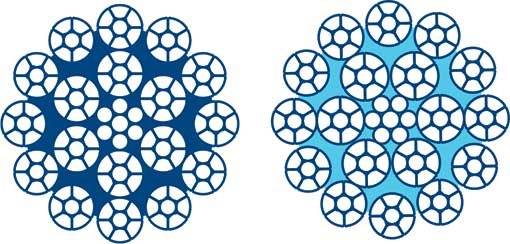 3/8″ – 5/8″
3/4″ – 1 1/4″
1 3/8″ – 1 1/2″
18×7
18×19
18×26
WSC Dyform Strands
WSC Dyform Strands
WSC Dyform Strands
PI signifies full plastic coating of the steel core.
Lay Type
Lay Direction
Finish
Grade n/mm2
Regular
Lang
Right Hand
Left Hand
Bright
Galv
Dyform
•
•
•
•
Available as standard.
Diameter
Approx mass WSC
Min breaking force
Rope grade
Dyform
in
lb/ft
kg/ft
tons
kN
3/8
0.31
0.14
8.30
73.90
7/16
0.42
0.19
11.20
99.70
1/2
0.55
0.24
14.60
129.90
9/16
0.70
0.31
19.20
170.90
5/8
0.86
0.38
22.70
202.00
3/4
1.24
0.55
32.40
288.40
7/8
1.69
0.75
43.80
389.80
1
2.21
0.98
57.50
511.60
1 1/8
2.79
1.23
71.50
636.40
1 1/4
3.45
1.52
87.90
782.30
1 3/8
4.17
1.84
106.00
943.90
1 1/2
4.97
2.19
125.00
1112.50