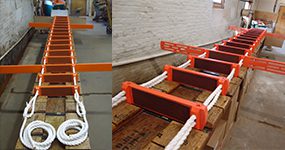 DJM-I Lengths up to 60 feet USCG Approval Series 163.003/11/0
DJM-II Lengths up to 90 feet USCG Approval Series 163.003/17/0
12-1/4 inch step spacing
The A. L. Don Pilot Ladder replaces the obsolete old style "Jacob's and Chain Suspension Ladder".
DJM I Ladder has steps/spreaders of hardwood except for the bottom 4 steps that are the same steps found on the DJM II to withstand greater impact.
DJM II ladder has all synthetic steps/spreaders made from Dupont® high impact strength surlyn HP. All steps and spreaders are painted international orange.
All steps/spreaders have non-skid grit applied to the surface using 2-part epoxy
All U. S. C. G ladders have the A. L. Don patented clamp made from Dupon®t high impact strength surlyn HP that is designed for quick step replacement with no special tools
The suspension rope is one continuous length on each side comprised of ¾" diameter 3-strand synthetic PolyPro-Dacron with a white outer jacket with a safety core of a contrasting color to the outer jacket.
Replacement steps/spreaders are white in color designed in the same manner as the original steps/spreaders to allow for quick replacement.
Standard lanyards are 10 feet in accordance with CFR specifications. Other lengths available.
SOLAS ladders available also if U.S.C.G approval is not required.