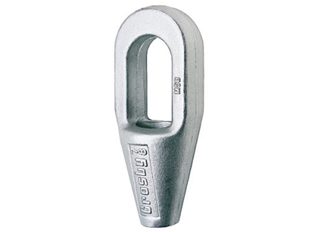 Forged Steel Sockets through 1-1/2", cast alloy steel 1-5/8" through 4".
Spelter socket terminations have an efficiency rating of 100%, based on the catalog strength of wire rope. Ratings
are based on the recommended use with 6 x 7, 6 x 19 or 6 x 36, IPS or XIP (EIP) , XXIP (EEIP), RRL, FC or IWRC wire rope. Strand constructed with minimal number of wires (e.g. 1 x 7) requires special consideration that socket basket be five (5) times the strand diameter or fifty (50) times the wire diameter, whichever is the greater.
G-417 / S-417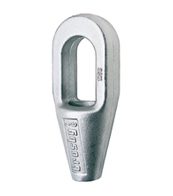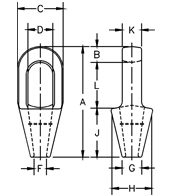 Closed grooved Sockets meet the performance requirements of Federal Specification RR-S-550D, Type B, except for those provisions required of the contractor. For additional information, see page 426.
NOTICE: All cast steel sockets 1-5/8" and larger are magnetic particle inspected and ultrasonic inspected. Proof testing available on special order. Drawing illustrates one groove used on sockets 1/4" through 3/4". Sizes 7/8" through 1-1/2" use 2 grooves.
Sizes 1-5/8" and larger use 3 grooves.
Rope Dia.
Structural
Strand Dia.
(in.)
Ultimate
Load
(t)
Stock No.
Weight
Each
(lbs.)
Dimensions
(in.)
(in.)
(mm)
G-417
Galv.
S-417
S.C.
A
B
C
D*
F
G
H
J
K
L
1/4
6-7
—
4.50
1039897
1039904
.50
4.50
.50
1.50
.88
.38
.69
1.56
2.25
.50
1.75
5/16 – 3/8
8-10
—
12.0
1039913
1039922
.75
4.94
.62
1.69
.97
.50
.81
1.69
2.25
.69
2.06
7/16 – 1/2
11-13
—
20.0
1039931
1039940
1.50
5.50
.69
2.00
1.16
.56
.94
2.00
2.50
.88
2.31
9/16 – 5/8
14-16
1/2
30.8
1039959
1039968
2.50
6.31
.81
2.63
1.41
.69
1.12
2.38
3.00
1.00
2.50
3/4
18
9/16 – 5/8
43.5
1039977
1039986
4.25
7.62
1.06
3.00
1.66
.88
1.25
2.75
3.50
1.25
3.06
7/8
20-22
11/16 – 3/4
65.3
1039995
1040000
7.25
8.75
1.25
3.63
1.94
1.00
1.50
3.25
4.00
1.50
3.50
1
24-26
26 13/16 – 7/8
81.6
1040019
.1040028
10.50
9.88
1.38
4.13
2.30
1.13
1.75
3.75
4.50
1.75
4.00
1-1/8
28-30
15/16 -1
100
1040037
1040046
14.25
11.00
1.50
4.50
2.56
1.25
2.00
4.13
5.00
2.00
4.50
1-1/4 -1-3/8
32-35
1-1/16 -1-1/8
136
1040055
1040064
19.75
12.12
1.63
5.00
2.81
1.50
2.25
4.75
5.50
2.25
5.00
1-1/2
38
1-3/16 – 1-1/4
170
1040073
1040082
29.20
13.94
1.94
5.38
3.19
1.63
2.75
5.25
6.00
2.50
6.00
† 1-5/8
† 40-42
1-5/16 – 1-3/8
188
1040091
1040108
36.00
15.13
2.13
5.75
3.25
1.75
3.00
5.50
6.50
2.75
6.50
† 1-3/4 – 1-7/8
† 44-48
1-7/16 – 1-5/8
268
1040117
1040126
57.25
17.25
2.19
6.75
3.75
2.00
3.13
6.38
7.50
3.00
7.56
† 2 – 2-1/8
† 50-54
1-11/16 – 1-3/4
309
1040135
1040144
79.00
19.87
2.44
7.63
4.38
2.25
3.75
7.38
8.50
3.25
8.81
† 2-1/4 – 2-3/8
† 56-60
1-13/16 – 1-7/8
360
1040153
1040162
105.00
21.50
2.75
8.50
5.00
2.63
4.13
8.25
9.00
3.63
9.75
† 2-1/2 – 2-5/8
† 64-67
1-15/16 – 2-1/8
424
1041759
1041768
140.00
23.50
3.12
9.50
5.50
2.88
4.50
9.25
9.75
4.00
10.62
† 2-3/4 – 2-7/8
† 70-73
2-3/16 – 2-7/16
549
1041777
1041786
220.00
25.38
3.12
10.75
6.25
3.12
4.88
10.19
11.00
4.88
11.25
† 3 – 3-1/8
† 75-80
2-1/2 – 2-5/8
656
1041795
1041802
276.00
27.12
3.37
11.50
6.75
3.38
5.25
11.50
12.00
5.25
11.75
† 3-1/4 – 3-3/8
† 82-86
2-3/4 – 2-7/8
750
1041811
1041820
313.00
29.25
4.00
12.25
7.25
33.18
5.75
12.25
13.00
5.75
12.25
† 3-1/2 – 3-5/8
† 88-92
3 – 3-1/8
820
1041839
1041848
400.00
31.00
4.00
13.00
7.75
3.88
6.31
13.00
14.00
6.25
13.00
† 3-3/4 – 4
† 94 – 102
—
1005
1041857
1041866
542.00
33.25
4.25
14.25
8.50
4.25
7.25
14.25
15.00
7.00
14.00