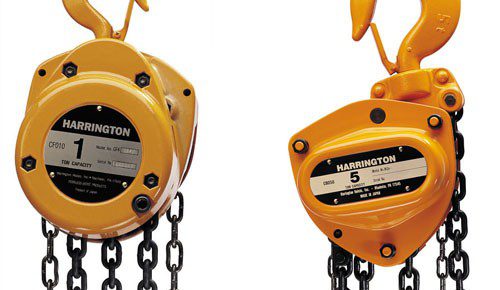 1/2 THROUGH 100 TON CAPACITY
CB hand chain hoists combine a rugged exterior shell with machine interior components to handle your most demanding lifting operations. An efficient drive train minimizes manual effort, while double enclosed brake cover, standard slip clutch, and double pawl springs enhance performance and reliability.
Many Benefits From More Features
Experience exceptional durability thanks to all-steel construction featuring rugged gear case enclosure and handwheel cover.
Enjoy increased lifting height thanks to low headroom.
Compact design results in lightweight and easy portability.
Minimize manual effort thanks to efficient drive train.
Standard slip clutch device prevents the hoist from being used to lift damaging loads beyond rated capacity.
Double pawl springs provide redundancy for reliable operation of brake mechanism.
Get reliable braking with double enclosed brake cover that keeps out dust, rain, and dirt.
Options
Chain container
Corrosion-resistant chain
Inspection hook
Capabilities To Count On
8-foot standard lift (12-foot for 8 Ton and greater), nonstandard lifts and hand chain drops are also available.
Grade 100 heat-treated manganese load chain resists abrasion and wear while minimizing chain weight.
Forged and heat-treated alloy steel hooksare designed to open slowly, without fracturing under excessive loads.
Test certificate verifies that every hoist has been factory load tested to 125% of rated capacity, in accordance with ASME B30.21 requirements.

| Cap. (Tons) | Product Code | Headroom C (in.) | Sth. (ft) | Pull to Lift Load (lbs) | A (in.) | B (in.) | D (in.) | E (in.) | F (in.) | G (in.) | X (in.) | Overhaul Ratio | Load Chain Dia. (mm) x Chain Fall Lines | Net Weight (lbs) | Shipping Weight Approx. (lbs) | Weight for Add'l One Foot of Lift (lbs) |
| --- | --- | --- | --- | --- | --- | --- | --- | --- | --- | --- | --- | --- | --- | --- | --- | --- |
| 1/2 | 005 | 11.2 | 8 | 48 | 6.2 | 6.3 | 8.0 | 2.7 | 3.9 | 1.1 | 3.5 | 25 | 5.0X1 | 22 | 23 | 1.0 |
| 1 | CB010 | 11.6 | 8 | 77 | 6.4 | 6.3 | 8.0 | 2.8 | 3.9 | 1.1 | 4.0 | 43 | 6.3X1 | 25 | 26 | 1.2 |
| 1-1/2 | CB015 | 13.8 | 8 | 58 | 6.7 | 7.2 | 8.0 | 3.1 | 4.4 | 1.3 | 4.7 | 57 | 7.1×1 | 32 | 33 | 1.4 |
| 2 | CB020 | 14.8 | 8 | 77 | 7.2 | 8.0 | 8.0 | 3.4 | 4.9 | 1.4 | 4.9 | 70 | 8.0X1 | 41 | 43 | 1.6 |
| 2-1/2 | CB025 | 16.5 | 8 | 70 | 7.6 | 9.2 | 8.0 | 3.6 | 5.6 | 1.6 | 5.4 | 99 | 9.0X1 | 56 | 58 | 1.8 |
| 3 | CB030 | 20.1 | 8 | 72 | 6.7 | 9.3 | 8.3 | 3.1 | 6.4 | 1.7 | 5.8 | 114 | 7.1X2 | 49 | 53 | 2.1 |
| 5 | CB050 | 23.6 | 8 | 74 | 7.6 | 11.1 | 10.0 | 3.6 | 7.6 | 1.8 | 6.8 | 198 | 9.0X2 | 85 | 89 | 3.0 |
| 8 | CB080 | 30.3 | 8 | 75 | 7.6 | 14.7 | 10.3 | 3.6 | 10.0 | 2.9 | 10.8 | 297 | 9.0X3 | 124 | 131 | 4.2 |
| 10 | CB100 | 29.9 | 12 | 72 | 7.6 | 17.2 | 14.9 | 4.4 | 12.1 | 2.9 | 11.6 | 396 | 9.0X4 | 186 | 203 | 5.5 |
| 15 | CB150 | 40.2 | 12 | 74 | 10.6 | 19.4 | 15.9 | 4.7 | 13.3 | 3.1 | 12.6 | 594 | 9.0X6 | 346 | 368 | 7.9 |
| 20 | CB200 | 46.5 | 12 | 72X2 | 14.7 | 29.4 | 16.3 | 7.4 | 14.7 | 3.2 | 13.8 | 396X2 | 9.0X8 | 524 | 678 | 10.9 |
| 30 | CB300 | 51.2 | 12 | 86X2 | 15.9 | 29.4 | 16.3 | 8.0 | 14.7 | 4.1 | 15.7 | 495X2 | 9.0X10 | 690 | 889 | 13.3 |
| 40 | CB400 | 58.3 | 12 | 86X2 | 19.8 | 29.9 | 16.6 | 9.9 | 15.0 | 4.1 | 17.5 | 693X2 | 9.0X14 | 1068 | 1398 | 18.2 |
| 50 | CB500 | 61.4 | 12 | 98X2 | 21.4 | 31.3 | 16.6 | 10.7 | 15.7 | 4.4 | 18.4 | 792X2 | 9.0X16 | 1422 | 1752 | 20.6 |
| 80 | CB800 | 100.8 | 12 | 86X4 | 29.9 | 55.2 | 15.9 | 13.8 | 27.6 | 5.1 | – | 693X4 | 9.0X28 | 3392 | – | 36.3 |
| 100 | CB1000 | 125.2 | 12 | 98X4 | 31.3 | 56.9 | 14.6 | 15.7 | 28.4 | 7.3 | – | 792X4 | 9.0X32 | 6525 | – | 41.2 |